Boost Your Business With Premium Listings
Get Found First, Get More Page Views and Enquiries
and Target the Countries
You

Want Business From

AZFreight is the world's most trusted directory for suppliers to the global airfreight industry. It therefore generates a continuous flow of enquiries and leads for its listed members daily. Hence, for over 25 Years, AZFreight has been the central directory for demand and supply in Airfreight.
Premium Listings are for AZFreight's Most Dynamic Companies
In return for the free work we do to put your company in front of potential buyers, we offer Premium Listings to those who want more prominence. Premium Listings are for companies with a story to tell, who can prove their position above their competitors, and who are serious about generating more business. Of the top hundred companies viewed on AZFreight, Premium Listings consistently out-number normal listings:
Page Views Past 30 Days
Top 100 listings visited on AZFreight.com since 05 Mar 2020
Source: Live AZ Web Database
What Makes Your Premium Listing Such Good Value?
For little over £1 per day (€1.1 or $1.3), you can be assured that links to your Premium Listing will more visible, more prominent and more frequent to users of AZFreight. Not only that, but our unique country targeting system enables you to prioritise exactly who you get business from. Of the many benefits and advantages Premium Listings get, following is a short sample.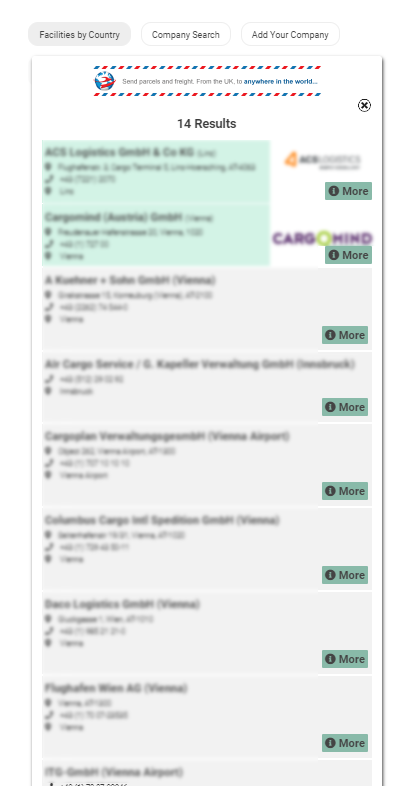 Make the Search Results Yours!
When users search the AZ Directory, Premium Listings are shown first and highlighted in green, before all others.
Premium Listings are the only ones to have their logos displayed in these search results.
The Premium company results are randomised to ensure a fair spread of the top position. Normal listings are shown alphabetically.
This is a guaranteed way to get more interest, more click-thrus and more enquiries from our global pool of visitors who are seeking the services you provide in your country.
This alone is a sure way to get more targeted views of your company information, more enquiries, leads and business!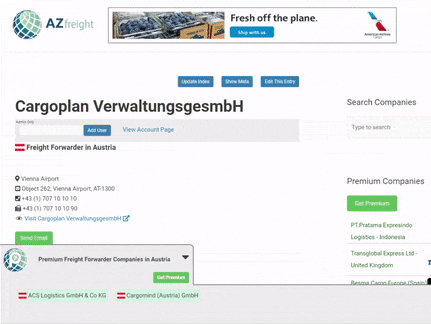 Popups in the Premium Bar
When users arrive on a company page, Premium Listings which match the country and company-type are displayed in the Premium bar.
Hovering over the listing causes a popup displaying your company logo and description with a button-link through to your page.
This provides another way you can be sure to attract more interest and enquiries.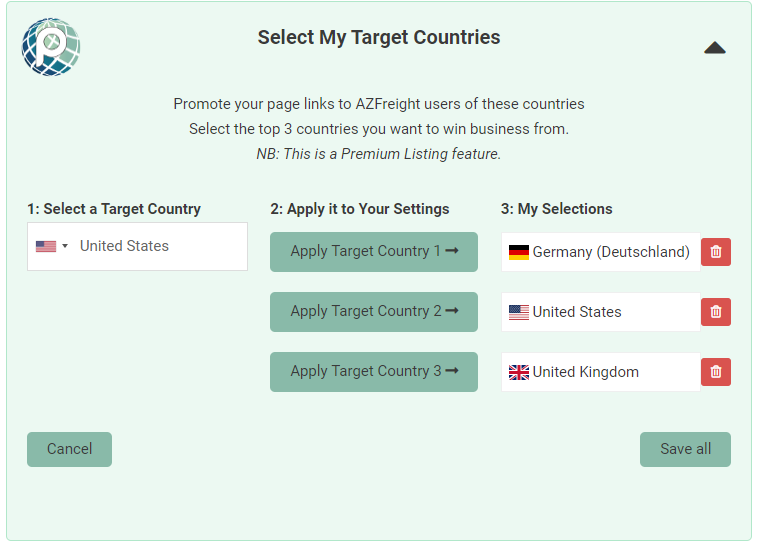 Choose Who You Get Your Business From!
As a Premium Listing, you can select which countries you most want to target. Then, when users visit the site from those countries, our unique algorithm will position your listing with prominence, ensuring you will attract more interest from those countries.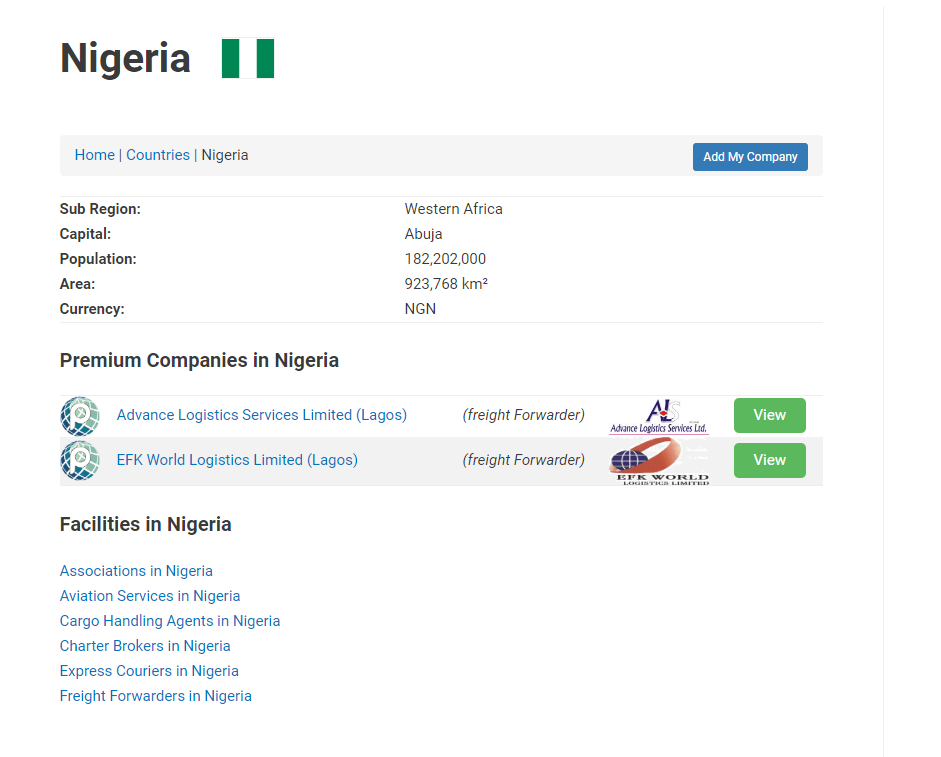 Appear Top of Your Country Page
Country pages are our busiest landing pages aside from the homepage. That's because AZFreight.com attracts a lot of search traffic from terms such as 'Air Freight in Nigeria', for example.
The Premium Listings of that country are given prime position at the top of that Country's page, so they receive a boost in click-thrus and interest, over and above the other listings.
This is yet another reason why Premium Listings provide remarkable value for the added exposure they get to more traffic, enquiries and business on AZFreight.com
For the full range of benefits and advantages a Premium Listing give you, see the comparison tables below and then select which of your listings you want to upgrade. You can also choose your preferred payment currency.
Free
Await Admin Moderation of Updates
Target Your Visitors by Country

Highlighted Top-of-List in Search Results

Immediate Updates to Profile Pages

Link & Logo in Random List on All Pages

Up to 10 Videos on Profile Page

Video Shown at Random on Homepage

Contextual Premium Bar Navigation

On-Page PDF Brochures Displayed

Displayed on Top of your Country Page

Company Name, Address and Profile

Company Logo Displayed

Live Link to Website
Free
Annual Premium
(Recommended)
Your Edits Updated Immediately
Target Your Visitors by Country

Highlighted Top-of-List in Search Results

Immediate Updates to Profile Pages

Link & Logo in Random List on All Pages

Up to 10 Videos on Profile Page

Video Shown at Random on Homepage

Contextual Premium Bar Navigation

On-Page PDF Brochures Displayed

Displayed on Top of your Country Page

Company Name, Address and Profile

Company Logo Displayed

Live Link to Website
£

360.00
/ year
Bank Transfer or Paypal
Monthly Premium
Your Edits Updated Immediately
Target Your Visitors by Country

Highlighted Top-of-List in Search Results

Immediate Updates to Profile Pages

Link & Logo in Random List on All Pages

Up to 10 Videos on Profile Page

Video Shown at Random on Homepage

Contextual Premium Bar Navigation

On-Page PDF Brochures Displayed

Displayed on Top of your Country Page

Company Name, Address and Profile

Company Logo Displayed

Live Link to Website
£

35.00
/ month
Paypal