During the first week of April 2020, The world was in lockdown due to Coronavirus. With meetings, trade fairs and events all cancelled for the foreseeable future, it seems likely that all leads and new business will come from online sources.
Therefore, we launched a quest to discover what our member listings would most favour as the next new feature on AZFreight.com
For a bit of background, following is a list of some of the upgrades we have made to the website since its relaunch in November 2019:
Recent Enhancements Already Made on AZFreight.com
High-ranking pages for contextual organic search terms in Google and other search engines.
Chart page-views in 'My-Account' area for all listed pages.
Low-cost monthly subscriptions for Premium Listings.
Removal of public email addresses to eliminate unwanted messages.
Promote to visitors of top 3 target countries for Premium Listings.
Logos and rich content for all listings.
Search-as-you-type ultra-fast database indexing.
We then had three new developments we wanted to trial, but before setting to work on each of them, we asked our member listings which one would be most beneficial to them. This way we can prioritise development for each of them in order, knowing we are working in response to our listings needs.
The three potential new developments we offered were:
Raise available target countries to 5 (currently at 3 per listing)
In-message system – read and reply when logged-in (currently by email only)
Random Daily Premium upgrade (give a random normal listing Premium privileges for 24 hrs)
As explained in our email quest, the Target Countries feature (1) is available to Premium Listings only. Other listings can add their target countries, but we will present authority links to visitors of those countries, only for Premium Listings. The in-message system (2) would be an extension of our current email method for relaying enquiries and leads to our listings. And the random Daily Premium Upgrade (3) is a feature by which normal listings can experience Premium membership for a day, selected at random, to see what a spike in viewers it brings to their listings page for that day only.
Following is the outcome of our quest, as voted by the listings on AZFreight.com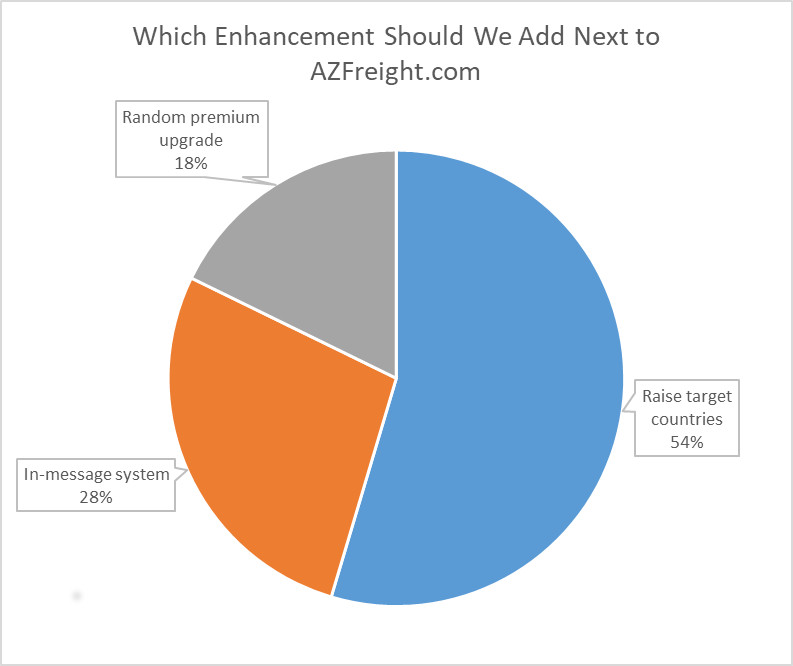 With an overwhelming majority wanting us to raise the target countries from 3 to 5, that is what we have set about doing. The in-message system was also popular, clearly, and we will pen that in for development in the future.
We also received numerous other ideas from our listings, for further new features to add to AZFreight.com. In particular, a common request was to introduce some form of rating system. We are looking into this, and considering the best way it might be introduced for the benefit of our listings pages.