Importers and Exporters around the globe are seeking the quickest, easiest way to get their shipments from one country to another. And with AZFreight, they get the largest pool of Forwarders and other suppliers to help them. However, when a freight quote request is placed at AZFreight, we have a careful selection algorithm for who we send it to. More about that is explained below, but in the meantime, if you're lucky enough to receive a freight quote request, please respond to it responsibly, using our simple tips below the guide.
For reference, when logged in, you can see your pending quote requests at your Quote Management Page (opens in new tab).
Quote Request Guide
1. The Quote Request Panel
Your available quote requests are listed by QID (Quote ID):
Important: You must view the quote detail before responding.

2. The Quote Response Panel
The response panel is revealed when clicking to respond: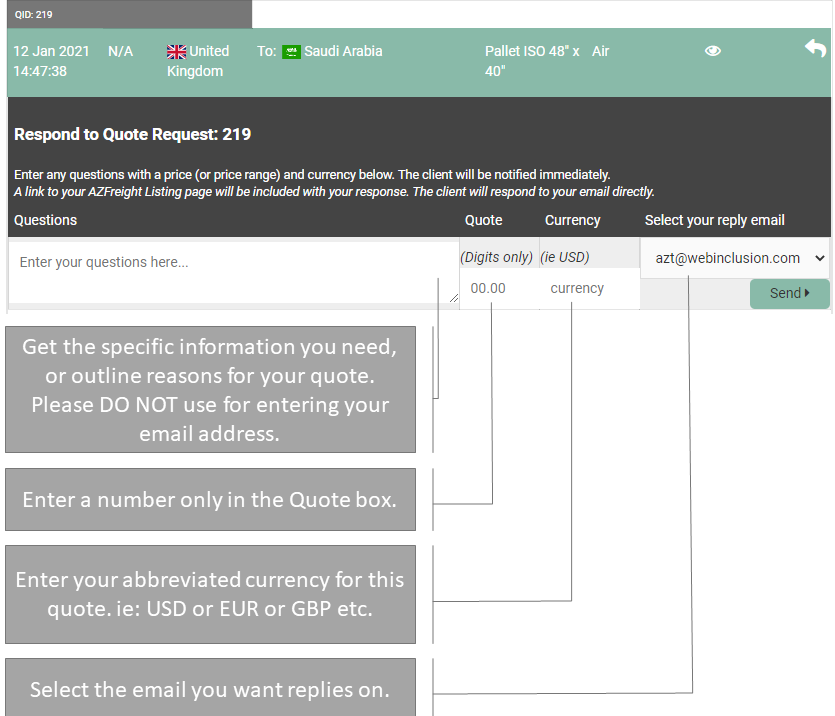 3. After Submitting your Quote
Providing you have sent useful information to the quote requester, you can expect a response to your chosen email. Quote requesters will see your quote like this (example):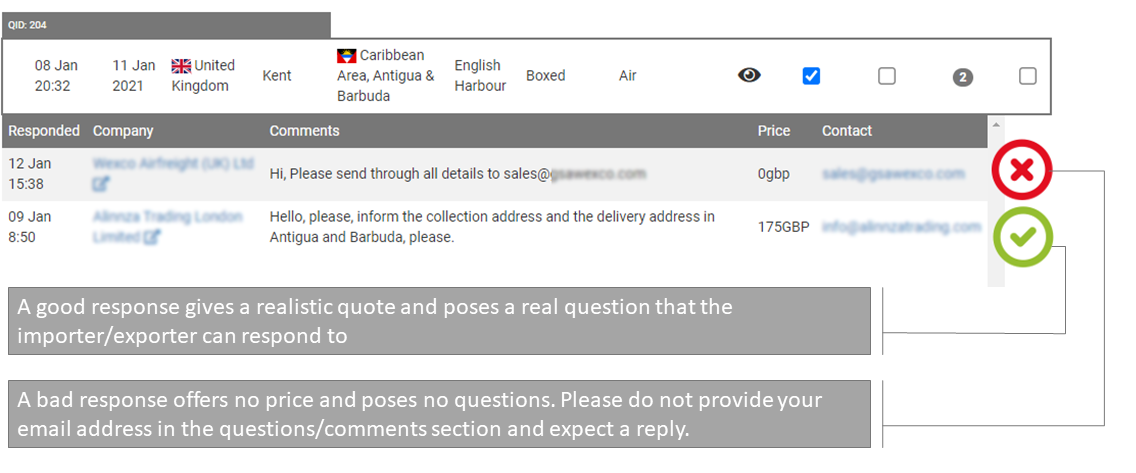 Top Tips for Responding to Quote Requests
Only respond if you can fulfil the request: Unless the quote has been sent to your company directly, there is no need to respond saying you are unable to do it. Courteous though this seems, the quote-requester only wants potential movers of their freight in their inbox.
Avoid entering emails in the message section: A link to your page and a mailto link to your email address is already included in your quote response. There is no need to add further email addresses in your message section therefore. Instead, use the message section for itemising your cost, or for querying variables that will affect it. This adds authority to your quote and raises the chances of it being chosen.
Give a realistic price wherever possible: The quote requester is seeking a cost as soon as possible. Your first response needn't be the price you finally agree upon, but it provides an opportunity for you to use your experience in the field to give a realistic figure from which a discussion can ensue. If it is unrealistic (high or low) you are less likely to engage with the quote request.
Respond fast: Use all your powers to action responses with speed. Impress the quote requester with your efficiency and you will increase your chances of being chosen.
Who Receives AZ Freight Quote Requests
The algorithm for sending quote requests to AZFreight listings is not fixed, but moves according to how we can serve the quote requester best, whilst at the same time providing business opportunities to worthwhile companies on the AZ Database. Following are the essential three guideline rules:
The quote requester can choose whether to send requests to suppliers in the arrival country, the departure country, or both.
The first to receive quote requests are AZ's Premium Listings. If their country is included in the requester's choice they will always receive a quote.
After that, if there is space left in the number of designated recipients, we will send quote requests to a small random selection of those companies who have updated their listings most recently. In this way, we aim to provide the importer/exporter with a range of companies most likely to respond quickly to their quote request.
Now you know how to respond to your quote requests, so head over to your Quote Request Management and respond to yours':