When your freight quote request is published, we will be monitoring it to check for replies. Then, as soon as a forwarder sends a response, we will alert you by email.
The email will contain a link to your Quote Management Page, where you can manage all your quote requests and respond to your quotes directly when they come in.
1. The Quote Management Screen: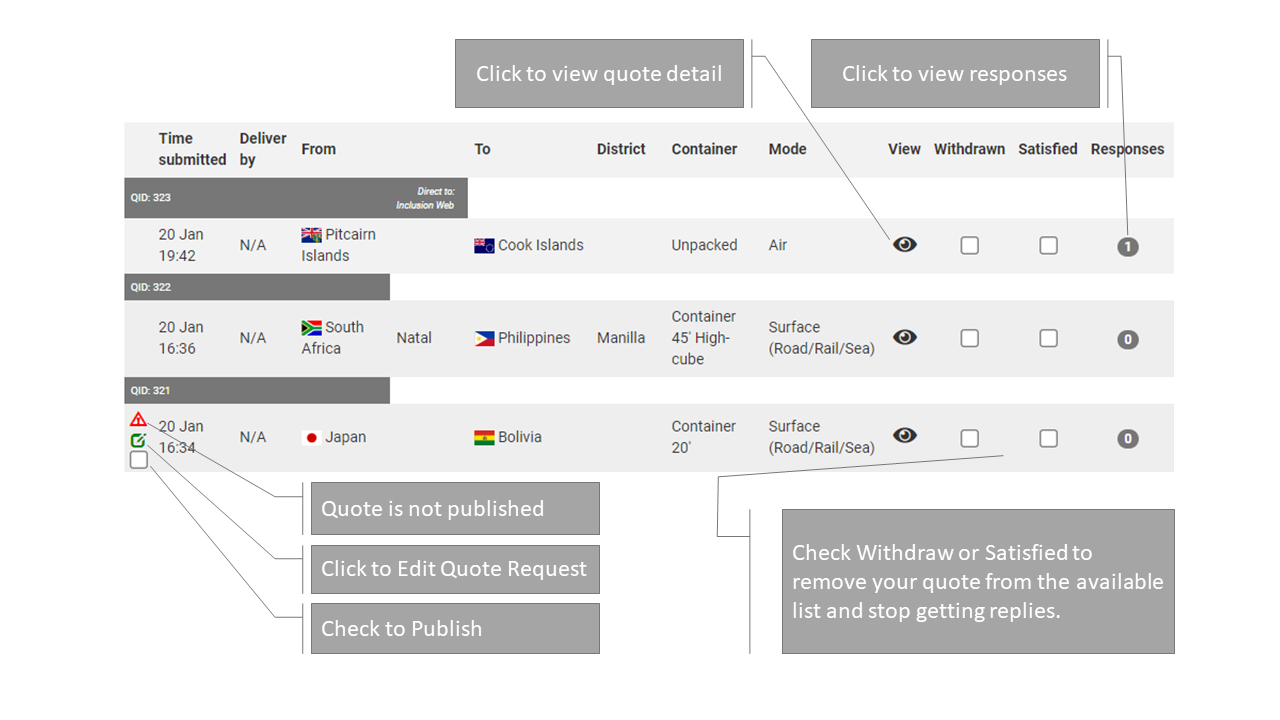 2. Responding To Your Freight Quotes
When you click the responses indicator, your responses are revealed beneath your quote.
You can then reply to your quotes with your private email. Tip: Be wary of quotes with a zero price and an email address in the comments, unless it is accompanied by useful questions. There is no obligation to respond.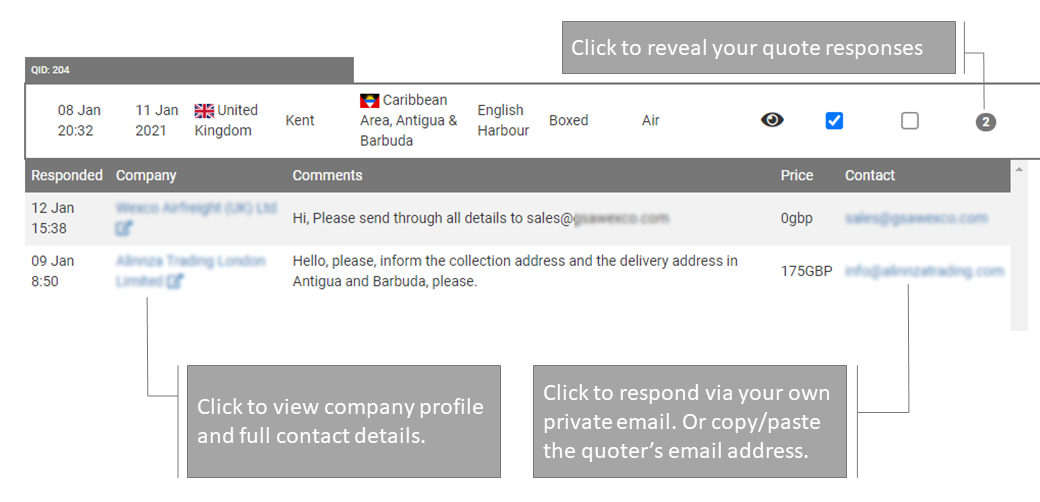 3. When You Have Chosen a Quote From Your Freight Quote Request
Finally, when you have picked the company to ship your freight, please remember to mark your quote request as satisfied.
To do this, just check the box in the 'satisfied' column. You will be given a list of the companies who quoted, so you can select the one you chose. Alternatively, if none of them won your shipment, and you passed your freight to another forwarder, please just select 'none of these companies', when asked.
4. Top Tips for Placing a Freight Quote Request
Give as much information as possible: The more you give, the easier it is for quote responders to give an exact price. Without all the information, the process requires to-and-fro messaging. You can reduce this by using the comments section at the end of the Quote Request Form to pre-empt any questions you think might arise.
If you can, give an arrive-by date: Its not always possible, but it helps to focus the search if you can give an arrive-by date: The more notice time you can give, the better.
Keep an eye on your emails and respond to quote responses quickly: This keeps your potential freight partners interested while you evaluate responses and ensures you have them on-side when you're ready to make a decision. We provide a quick and easy way for you to respond to quoters directly using your own email system.
Keep your quote request up-to-date: When you have chosen a quote, check the box to mark your quote request as Satisfied. This prevents you receiving unnecessary quotes and saves everyone's time. You can also mark your quote as Withdrawn at any time if you need to hide it from further responses.
5. Your Freight Quote Questions Answered
If you have any queries about the AZFreight Quote System, please go ahead and ask them here. We will come back to you with the answer, and it might feature in our FAQ.